Recently, we asked digital volunteers in the Smithsonian's Transcription Center to transcribe Spencer Fullerton Baird's Index of Correspondence, 1850s-1870s, and they delivered in a mere two weeks! The reward, which was likely motivation for finishing so quickly, was a behind-the-scenes chat with our own, Pamela Henson, Historian of the Smithsonian. She gave a fascinating perspective on the life of Spencer F. Baird, the Smithsonian's second Secretary and its first curator.
As a child in Reading, Pennsylvania, Baird and his brother, William took long walks in the countryside exploring nature. A fan of walking, Baird once competed in a 40-mile race in a day, and won! By age 15, Baird was corresponding with ornithologist, John James Audubon, to ask for help identifying birds he collected on his walks. He attended and taught at Carlyle College where he began to correspond with the Smithsonian. In 1850, he was named first curator and Assistant Secretary of the Smithsonian.
He served under then Secretary, Joseph Henry, who was a physicist and had no interest in developing the Smithsonian into a museum. Rather, he preferred scientific research labs and felt that collections were a burden. In the meantime, Baird dreamed of becoming director of a national museum and he arrived at the doors of the Smithsonian with two boxcars full of bird specimens, including ones donated from Audubon.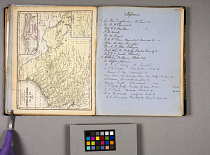 While at the Smithsonian, Baird collected much more. From the outset, the Smithsonian had no standing budget for acquiring collections, which continues today. As Henson likes to say, we have always relied on the kindness of strangers.
Working off Joseph Henry's Meteorological Network of citizen weather observers, Baird developed a network of collecting volunteers from across North and Central America (trappers, farmers, doctors, military people stationed out west). Baird wrote approximately 5000+ letters per year encouraging contributors, much as Audubon had encouraged Baird in his young years.
The core organizing mechanism in Baird's Index is an atlas. Baird followed Darwinian theory and was interested in biogeographical coverage of specimens. Hence, Baird organized contributors in the atlas to ensure a broad range of coverage across the Americas. 
Since the Board of Regents supported the development of a natural history museum, his work continued. His letters and kind attitude engendered many people to the Smithsonian. He hired the first African American and female employee of the Smithsonian. And eventually, upon Henry's death and his appointment as Secretary, his dream of a great national museum was realized.
Related Collections
Related Resources
Leave a Comment